We are welcoming Donna Cummings to the blog today! She is the author of Lord Midnight, a romantic historical that has a yummy highwayman….and we certainly don't have enough of these in Romance Novels these days! I hope you enjoy what Donna is sharing with us today.
The Magic of Historical Romance
by Donna Cummings
I've been enchanted with historical romance since the first time I heard a story that began with "once upon a time". Those magical words started my love of romantic adventures set in faraway lands, filled with dashing heroes and clever heroines, and most importantly, happily-ever-afters.
From there I read books set in many historical time periods, but my favorite has always been the Regency era. It is filled with many fairy-tale aspects, from the elegant clothing to the magnificent carriages to the glamorous social events, and I've often wondered what it might be like to live during those fascinating times.
Now I will be the first to admit I am not willing, or able, to give up any of my modern conveniences, including coffee, indoor plumbing, or my laptop. Nor am I planning to relinquish my ability to vote, speaking my mind, or any of the other inalienable rights I have as a 21st century woman.
Still, I am torn between two centuries.
I love the instantaneous communication we have available today, from texting to Twitter to email. But I also love the clever language and sophisticated conversation of days gone by, as well as the hours that were devoted to face-to-face discourse. When it comes to people falling in love, the leisurely progression that starts with a glance, and continues with witty banter and wordplay — well, it is so much more appealing than a simple "I <3 U".
Fortunately, historical romance makes it possible to blend the best of both eras.
We can power up our e-readers and fall instantly into a romantic story from long ago. Within seconds we can absorb the excitement of entering an ornate carriage, delicately arranging our muslin skirts so they aren't crushed while riding to the ball at Lord Rakington's townhouse. With a tap of the screen, we can vicariously experience the heroine's scandalous waltz with the dashing rogue hero, imagining ourselves in that heart-fluttering moment, wondering what else might happen on such an exquisite evening.
It's likely the historical world did not exist precisely the way it is portrayed in fiction, in much the same way that our modern-day existence is radically different than historians' predictions of the future. But reading these stories serves as a wonderful reminder that love and romance are a vital part of everyday life, no matter what that era's struggles might be. It also reminds us that each generation's hopes and dreams are focused on many of the same things that we cherish too.
For a few delightful hours at a time, we can be transported to another century, immerse ourselves in chivalry and romance and fairy-tale adventures, and then return to our daily lives with renewed optimism and faith in the future.
That is what I consider truly magical.
Bio: I have worked as an attorney, winery tasting room manager, and retail business owner, but nothing beats the thrill of writing humorously-ever-after romances.
Currently I reside in Massachusetts, although I fantasize about spending the rest of my days in a tropical locale, consuming mojitos for breakfast and wearing flip flops year-round.
I can be found at www.AllAboutTheWriting.com, dispensing writing inspiration, or on Twitter (@BookEmDonna), talking about writing, and coffee. I'm also on Goodreads and Facebook.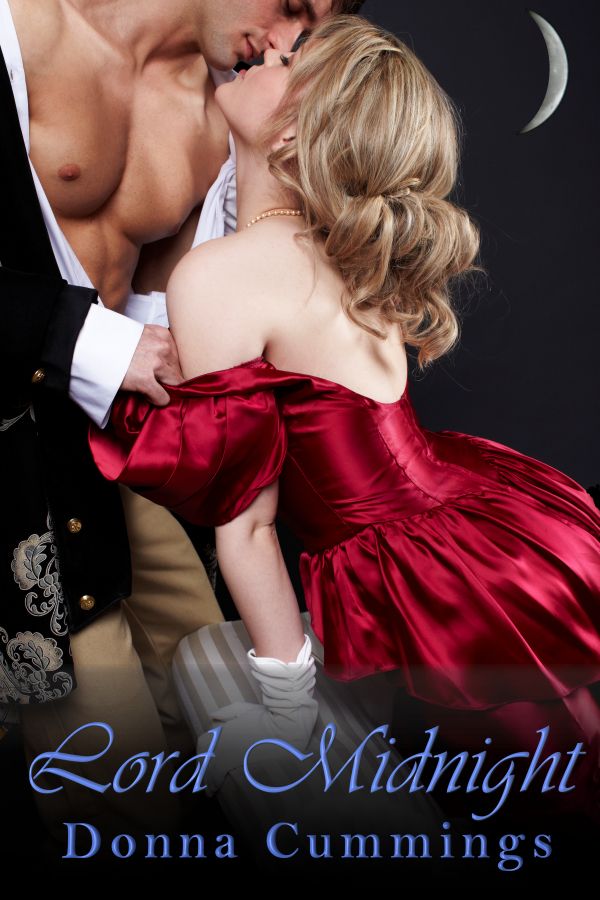 LORD MIDNIGHT
Gabriel DeVault, a dashing highwayman, lives to avenge himself against the uncle who stole his title and tried to kill him as a child. One night's robbery yields unexpected riches when his uncle's spirited bride-to-be falls into Gabriel's arms. Now his plans for vengeance include seduction of the innocent miss, in the home that once was his own.
Marisa Dunsmore is blackmailed into wedding the cold and calculating Edmund DeVault, Lord Westbrook, to protect her beloved aunt. When her attempts to escape the upcoming marriage fail, she turns to the man she knows as Lord Midnight, entrusting him with her love, and her future.
Soon Gabriel must choose: saving the woman who stole his heart, or destroying the man who stole his life.
Available now at Amazon, Barnes & Noble, and Smashwords