Writing on the Cheap: Free/Cheap Software to Write Your Self-Published Book
By: Elizabeth Ann West
Ensure you make money on your self-published, indie book by controlling the costs of production. Here are software titles available if you are trying to improve your writing technology on the cheap.
Have an older laptop/computer that's really dragging under the weight of Windows? Ubuntu is for you. A flavor of Linux, this free operating system is programmed by global volunteers to be as streamlined as possible. Since the code is watched by hundreds of thousands of eyes, Ubuntu is very nearly impervious to viruses and spyware.
You can install Ubuntu on your computer next to Windows by partitioning your hard drive and choosing which one to boot into each time you start up. The installation will walk you through that. With Ubuntu, you can still get online with any browser you want, browse an entire library of free software for just about any need you have, and write and create Word documents, Excel spreadsheets, or Powerpoint presentations with OpenOffice.org.
Using programs like Wine, another free one, you can also open certain Windows applications, such as all of the ereader apps. In fact, you can download a copy of Ubuntu, save it to a DVD and run the entire thing from your DVD drive to test it out (though it's slower than when installed on a hard drive).
OpenOffice.org (or LibreOffice)
This free productivity suite works on Windows, Mac, and Linux. It free software equivalents of the titles in the Microsoft Office group. Writer makes text documents, saving and opening .doc files. Writer also exports to HTML and saves as PDF. Calc is the spreadsheet title, 100% compatible with Excel and other spreadsheet formats. Present is the presentation title that works nearly identical to Power Point. There are also software titles to make complex mathematical drawings.
Jutoh is not free software, but does have a healthy trial period and works on all major operating systems. This is an ebook compiler, and it will make epubs, mobi, and a variety of other formats. The program will separate a .odt file (made in OpenOffice.org) if you make the chapter titles any Heading style into the various documents that make up an ebook. As an author, you can go in and make edits on a chapter basis, click a button, and export any of the major ebook formats. It's also handy if you need to update an ebook file to reflect new titles you have written or offer a teaser chapter without having to track down your ebook formatter. The interface is 100% graphical, so limited knowledge of HTML is needed, though always helpful when making ebooks.
Need a book cover from stock photos? Can't shell out for Adobe? GIMP and Inkscape are your free alternatives. GIMP is a photo editing software title, using layers, that allows for changes to image files. Inkscape is a vector graphics software title that lets an author manipulate shapes and images as individual entities. Inkscape is great for when you want to customize the cover of your title because you can treat each letter individually, make shadows, rotate and move the text around for stylistic preferences. Even if you leave your cover art to a professional, these titles are great for making web banners and buttons for blog advertising.
By saving money on the cost to produce an ebook, you can save budget room for advertising after the book is out, or for editing runs. Even if you have an old dinosaur of a computer, you don't need a new one to publish a book. You just need new software.
Additional Information
Cancelled
On Barnes and Noble (Nook and print)
Genre: Contemporary Fiction/Contemporary Romance/Chick-lit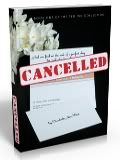 Book Blurb:
"What the hell did you send me home with last night?"
Robotics engineer Johnathan Michaels knows all about biding his time. For three years he's worked next to his best friend and idea of a perfect woman, Alexis Rodriguez. Their friendship sparks into a heated attraction while saving the company's first multi-milion dollar contract. Johnathan's life appears to be on track. He owns a successful company and he's won the woman of his dreams. Life is perfect until a previous one-night stand returns Johnathan's shirt.
Pregnant. And it's his.
Now Johnathan's too distracted to keep up at work, wondering if the baby is his, and if so, exactly how does he tell Alexis?
CANCELLED is a tale of one man's romantic adventures, as Johnathan strives for life beyond bachelorhood. The book bends the genre rules of contemporary romance and chick-lit with a male POV and a twist on the ending.
Book trailer: http://www.youtube.com/watch?v=ppcZSMY18zg
Author Biography:
Elizabeth Ann West is a jane-of-all-trades, mistress to none. After spending three years selling her non-fiction articles to websites and marketing firms, she is finally making the jump to fiction writing. Before choosing a career in writing, she made magic at the Walt Disney World Resort and performed as a Quality Technician for Alcoa. Armed with a B.A. in Political Science of all things, writing fiction is her next mountain to conquer. Originally from Virginia Beach, VA, her family now moves wherever the Navy sends them. Currently, the Navy needs her family in Connecticut.
Author website   *   Twitter   *   Facebook