Indie Book Promos would like to welcome AK Taylor to the blog!  She's here to share some thoughts and also to talk about her books.  Neiko's Five Land Adventure has been released and Escape From Egypt is soon to be released.  I hope you enjoy learning about these books, and if they sound like something you would enjoy, use the buy links to pick yourself up a copy!
First of all I would like to thank Rachel and Barb at Indie Book Promos for the invitation to guest post here. It feels great to be among friends.
A  little about myself. My real name is Amanda Taylor, and I write under the name of AK Taylor. It has nothing to so with the assault rifle—although I seem to write like that. I am from the Georgia backwoods where I see more animals and trees than people. There aren't as many authors and writers here as some places.
Like quite a few writers, I had an affinity for creative writing at a young age. I liked writing short stories and poems. As far as I could remember I have always had a vivid imagination. I would go on adventures in the woods and backyard. When I was in the 8th grade we moved to the suburbs and there I lived until a few years ago.
While living in the suburbs and growing up, I had to put away the toys but not my imagination. I decided to experiment with myself to see if I could write a book when I was 16. I taught myself how to write dialogue. Neiko's Five Land Adventure was born and so was a saga. I basically wrote a book about my own adventures, but then the world only grew.
Neiko's Five Land Adventure is also my first published book. It had been changed over the years and through the editing process. It didn't come out perfect the first time, and it is one of the few writings by teenagers that are not locked away from the world. I got talked into publishing, but that's a whole different story.
Neiko's Five Land Adventure and the saga it belongs to are miles away from J.R.R Tolkien and Harry Potter, or Twilight. It is completely original and unique with Native Americans, immortal evil, magic, other worlds, creatures, and secret lands hidden in plain sight. Would you ever guess there was a Native American hidden land that coexists with the U.S., Canada, and Mexico? These are just a few of the surprises in this book alone.
As of right now I am working with my editor to get the second book Escape from Ancient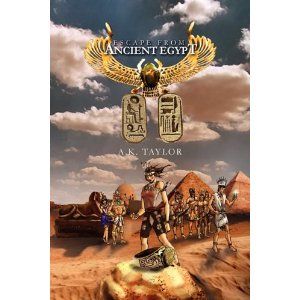 Egypt released this year. Something happens in Neiko's Five Land Adventure that leads to this and what happens in this story has implications later. Each story can almost stand alone, but they are building blocks of a bigger picture.
This story is for upper middle grade and young adult readers—I guess I can add in the big kids at heart as well.  It is a fun, imaginative action adventure story.
Blurb: The Indians and the Crackedskulls are locked in the turmoil of war and presently in a stalemate. Her enemies, Raven and Bloodhawk, have come up with a scheme to up the ante and break the stalemate into their favor. Neiko later finds out that a land she thought she had only imagined is actually real and contains a legendary and otherworldly evil within it. Not only that, she becomes trapped there and must escape the world, the people within it, and the sinister evil within.
Neiko must find her way back home and turn the tables on her enemies. Can she come back home and escape the evil that seeks to claim her?



You can find AK:
Purchase links:
Also found at Sony, iBookstore, Books on Board, IndieBound, and other retailers