Indie Book Promo is welcoming Edenmary Black, author of Sanctum Warriors: Shadow Havens Book 2 to the blog. She's here to share some information about herself as well as her books.  Sit back and enjoy!
*     *     * 
IBP – Tell us about your new release.
Edenmary – Sanctum Warriors: Shadow Havens Book 2 was released in April 2012. Sanctum Angels: Shadow Havens Book 1 ends one night and Sanctum Warriors begins on that same night in the story. In the second book, the love and romance is happening between Micah Odera, a warrior of the Sanctum and Arabella D'Court, a woman who is part of a protected group of humans who live at the Sanctum and supply blood to the haven's vampires. These two are deeply in love, yet they face serious obstacles. Odera truly believes he is doing the best thing he can for Arabella, when he pushes her away. At the Demesne, Ilea is facing big trouble with her Mate, Sebastien. Several fateful decisions are made, which lead to Arabella's kidnapping and major problems for the supernaturals of the havens and the humans in Saint Rushton.
While Sanctum Warriors features typical alpha male warriors, the females are as strong, as they grow and fight for what and whom they love. It's a different kind of fighting spirit, but it's there, none the less. And, it's crucial to the story. I hope that's something readers find, as the story develops.
IBP -  Did you have support in the beginning and / or during your writing?
Edenmary – Yes, I'm very fortunate in having the support of my husband. His opinions are important to me and he's my go-to guy when I have technical problems. He's also very understanding when I'm closeted in my den with my laptop. At those times, I'm in my own world and he understands that it's best to leave me alone. I also have a few writer buddies who are incredibly helpful by keeping me posted on new trends or who just say, "Keep writing," when I need to hear it. I'm blessed and grateful in many ways.
IBP -  How would my friends describe me in twenty words or less?
Edenmary – Tenacious, creative, impatient, funny, hard working. I hope they'd think of me as loving and supportive. I wish I could say that they'd describe me as being organized, but they probably wouldn't go directly to that one! LOL!
IBP -  What are your guilty pleasures?
Edenmary – Silk lingerie. Seriously, no woman should be without it. Chocolate… thick chunks of rich milk chocolate. I've convinced myself that it's good for me. A good book on a cold, snowy night and my family members at home with me. To me, that's the perfect evening. I love the coziness. Add some chocolate and we're talking about heaven.
IBP – Are you a plotter or a pantzer?
Edenmary – Pantzer. Can't help it. When I begin a piece, it's often because I've imagined a scene or two and things that are happening between characters that are in my mind. The plot emerges first as a means of bringing those scenes and events together. I have to add that I'm deeply envious of those who can outline and follow the thing! When I try to do that, I end up staring at my key board, sort of frozen, like a deer in the headlights.
IBP -  Where do you get your inspiration?
Edenmary – The short answer to that would be my characters. When I have an idea for a character or ideas for how characters can come together, they demand release through my writing and I tend to imagine characters, like Micah or Arabella or Sebastien, as whole personalities. They just will not shut up until I've written them. So, I don't know if I'm driven or inspired! LOL!
IBP -  What book is currently on your night stand?
Edenmary – Justin Bog's Sandcastle and Other Stories. Mr. Bog's writing is beautiful in a very haunting way. He captures human emotion and adds a dose of something more, beneath mundane actions, in the most common settings. I have not finished the book, but I just read one of the stories in the collection last night and came away thinking, damn, that could happen! It was chilling.
IBP – Where is your work available?
Edenmary – Sanctum Angels: Shadow Havens Book 1 and Sanctum Warriors: Shadow Havens Book 2 are available for Kindle on Amazon and Amazon UK, for Nook on Barnes and Noble, through eBookIt.com's Bookstore in pdf. mobi and epub formats, for Kobo on Kobobooks.com, for the Sony ereader through Sony's Reader Store and for iPad, iPod Touch and iPhone through iTunes.
IBP – What are your thoughts on ebooks? (i.e. love them, hate them, wave of the future)
Edenmary – I love ebooks and ereaders for many reasons. One of those reasons is that I can shop from my bedroom, while I'm eating chocolate and the title I want is always available! The thing is, I love paper books too and continue to buy them. Always have and always will. I still love the way a book feels in my hands. I can't see that changing. Ebooks may be the wave of the future, but I just do not see bound books leaving us.
IBP – Anything else you would like to add?
Edenmary – I really enjoy hearing from readers! You make it all worthwhile and I'm so glad that those who read me in those first weeks after Sanctum Angel's release gave the story I envisioned a shot. Go ahead… just give yourselves a hug!
Decades ago, readers had far fewer opportunities to connect with their favorite writers. Today, readers can and do interact with writers through sites like Goodreads.com, Librarything.com and others. Writers' websites often contain some kind of contact information and mine's no exception. At www.edenmaryblack.com, readers can find ways to reach me, review links, chapter and excerpt samples or find out what's coming next.
Feel free to visit!
EXCERPTS FROM SANCTUM WARRIORS: SHADOW HAVENS BOOK 2
From Chapter Six of Sanctum Warriors: Shadow Havens Book 2
"Aeric, she's lovely," Sebastien said, looking Arabella up and down. "Not a redhead, but beautiful."
"I am pleased she meets your expectations, my lord," the were said. Actually, he wouldn't mind doing the blond tethered to the bed in the dirty, vacant room, in her pale blue panties and bra. Not at all. Maybe Sebastien would leave something for him. "I noted her peculiar scent and thought you might enjoy her."
Sebastien tapped the edge of the rusty bedframe at the foot of the bed, his eyes glued to Arabella "Yes, that scent is very special. You're Aeric, correct?"
"Yes, my lord."
"Go to your rest, Aeric. You have done well. Close the door."
When the were had gone, Sebastien stretched. His fatigue was growing but the blond, who was now fully conscious, intrigued him. He stripped his sweatshirt off and stood beside the bed, inspecting her soft skin and luxuriant hair, until he came to her wild, blue eyes.
"Yes, I see your fear," he said. "I understand that, yet you bring many questions to mind, so you must look past the anxiety. Be as intrepid, as you can. Let us start with your name. What is it?"
Arabella remained silent. The only light came from a candle, burning in the dusty corner on the floor, as a filthy blanket had been nailed over the room's small, grimy window. Still, she believed she knew who she was looking at and his reputation. She resolved to give him nothing…not even her name.
BLURB MATERIAL FOR SANCTUM WARRIORS: SHADOW HAVENS BOOK 2

Sanctum Warriors: Shadow Havens Book 2

Ilea Galaurus may be running the Demesne, but all hell breaks loose when Micah Odera, a vampiric warrior of the Sanctum, spots Sebastien Galaurus in Saint Rushton. The Demesne's dictator is determined to have his freedom with a select group of loyal warriors so they can enjoy hunting the humans of Saint Rushton. When one of his weres discovers Arabella D'Court sitting alone in a park, her scent tells him she is more than beautiful. She's something special enough for Sebastien's first meal in freedom. What the were doesn't know is that Arabella isn't like most humans. She's a member of the Sanctum's Basium Cruenta, an elite group of protected humans living at the haven to provide blood to Sanctum vampires.

She's also the only woman Odera can't shake loose from his heart. Arabella loves Odera deeply, even though he just can't bring himself to watch her age or die. When he gives her the truth and tells her to find another, forces are set in motion that neither can control. After the brutal discussion, Arabella seeks the peace of a local park, but ends up trapped in Sebastien's new lair. Her unlikely ally? A daemon healer named Lily, who has lived her entire life at the Demesne.

As Sebastien's thirsts for violence and Arabella grow, Sanctum warriors head for Saint Rushton with kidnap or kill orders on the dictator's life. They'll have a little help from the hereafter, but it won't be enough to stop the furies unleashed when they meet Sebastien's warriors.

Sanctum Warriors: Shadow Havens Book 2 contains descriptive material and scenes of sexual encounters between consenting male and female adult characters. It is intended for adult readers only.

Approximately 91,500 words.
Buy Links for Sanctum Warriors: Shadow Havens Book 2
Amazon     *     *     Amazon UK      *     *     Barnes and Noble     *     *     iTunes     
Sony's Reader Store      *     Kobo      *     eBookIt.com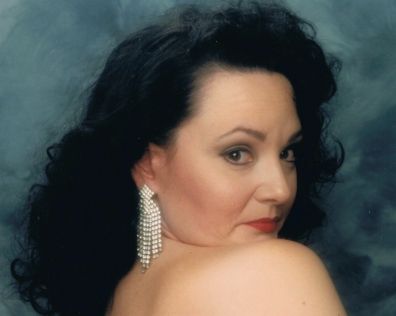 Author Bio:
Edenmary Black has been writing since she could clutch a pencil. She has always been fascinated with the mysteries of the paranormal and loves the question all writers answer when they pen fiction. For her, it's all about that magical, "What if?" When not working her keyboard, she enjoys long walks with her golden retriever, reading and spending time with her family, all of whom are male. She spends far too much on lingerie and is very, very weak for chocolate.