Indie Book Promotion is happy to welcome Kelly Hitchcock to the blog!  She is the author of The Redheaded Stepchild.  She's here to answer a few questions and also to share some information about her book.  We hope you enjoy the information and if this book sounds like something that you would be interested in reading, please use the buy links at the bottom of this post to pick up a copy!
IBP -  Try to describe your book in one sentence.
Kelly – Follow Cady O'Donnell through her young adult years as she meets, lives with, and loses one of the most influential (and at the same time, difficult) people in her life: her first stepmother.
IBP – When did you begin writing?
Kelly – According to my mother, it was as soon as I could hold a pencil. I would rewrite my own renditions of the stories she'd read to me at night (and illustrated… poorly…) on notebook paper, then bind the books by using old twist ties from our loaves of bread.
IBP – Do you read reviews written about your book?
Kelly – Yes. Multiple times. And like most writers, I probably obsess over them more than I should. A book's not for everyone, right?
IBP – Do you have a day job?
Kelly – Yes, as a software documentation writer. It's pretty much a polar opposite of what I do with my "real" writing, but it's something that keeps me learning and lets me scratch my inner geek itch.
IBP – What were the challenges in bringing this book to life?
Kelly – Parts of the book are heavily drawn from events in my own childhood, so I was worried that the book would hurt the feelings of some members of my family. Like any good writer, though, I refused to edit myself. I wasn't willing to sacrifice my authenticity to protect anyone's feelings. Still, it didn't make it any easier.
IBP – Did you know the title before you started writing?
Kelly – Nope. It just came to me one day, and I knew that it was THE title. My ex-step-mother always used to joke about me being a redheaded stepchild, and one day it just stuck.
IBP – Did you do any research before start or during of the writing of the books?
Kelly – Only when it's something trivial, like which NFL teams play on Thanksgiving Day. I get most of my inspiration from events or interactions I have with other people (or spot people having), so I usually let the story kick around in my head 'til it kicks its way out.
IBP – Are there any new authors that have grasped your interest?
Kelly – I can't say enough good things about Denise DeSio. She also wrote a "family saga," Rose's Will, and it was the best thing I've read in a really long time. Other than that, I'm looking forward to seeing more from a couple of independent authors I've come to know recently – L.M. Stull and Anthea Carson.
IBP – How can readers stay in touch?
Kelly – I love hearing from readers! Goodreads is probably my favorite place to collaborate, because it truly is a reader-driven community, as opposed to Twitter and my own website. Email me. Send me a tweet @KellyHitchcock. Become a fan of mine on Goodreads (it's good for my fragile ego). Add my website to your RSS feed. Send me a smoke signal. Actually, scratch that last one. Central Texas is too wildfire-prone.
IBP – If you were stranded on a deserted island, who would you want for company?
Kelly – Joan Rivers and Robert Downey, Jr. If I'm gonna be stranded, I might as well be able to drink liquor and laugh it off. Oh, and my boyfriend I suppose (Robert's a little old for me). And if she promised not to beg the whole time, my high-maintenance dog, Hazel.
IBP – Is there anything else you'd like to share to your followers and readers?
Kelly – Right now I'm in the finishing stages of a collection of short stories about women and their tattoos called Portrait of Woman in Ink: A Tattoo Storybook. I'm getting ready to send a draft to my beta readers – thank God for those!
Book Blurb: Cady O'Donnell is The Redheaded Stepchild, the heroine without any grandiose heroic actions. In this disjointed collection of short stories, we follow Cady as she tries on every hat in the this-is-your-life store to see what fits and works best in the adventures she shares with her special head of hair. Each chapter acts a screaming independent connection between the most formative years of her life, as she meets, lives with, and loses one of the most influential people in her lifetime. Set in a rural community in Minnesota, The Redheaded Stepchild is an archetype of life in small-town America and a testament that the broken family is the new whole family, just as Cady O'Donnell shows how the unwanted stepchild can be a everyday hero.
~~~~~~~~~~~
Author Bio: Kelly I. Hitchcock is an up-and-coming writer in the Austin, Texas area.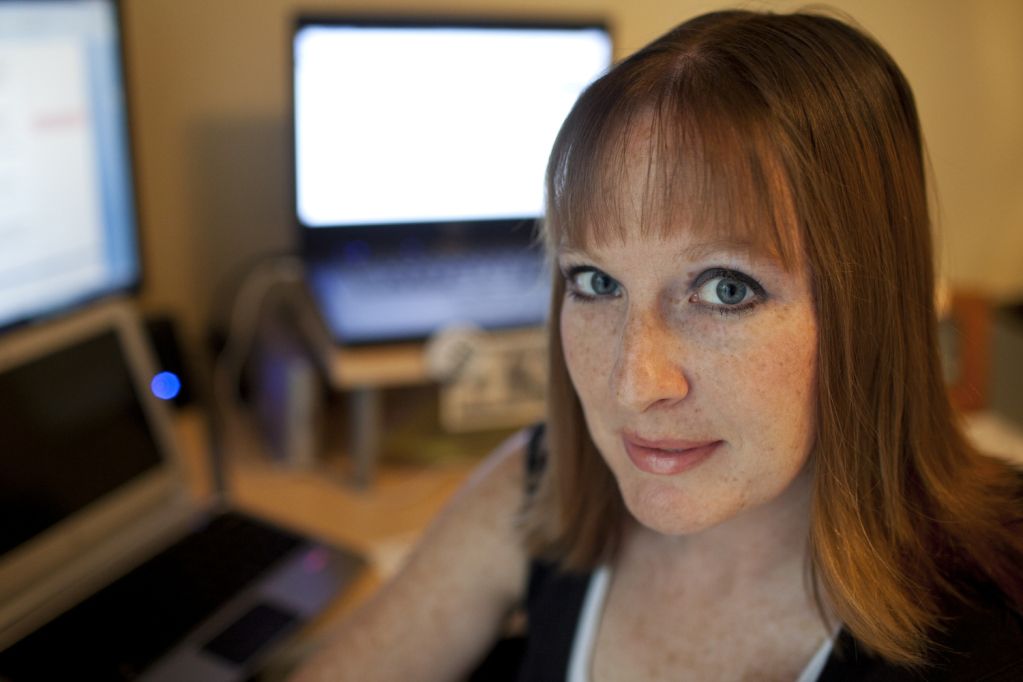 She is author of various poems about the randomness of life, several short stories, random creative nonfiction works, and the coming-of-age novel The Redheaded Stepchild. She is world-renowned among a readership of five people and growing.
Raised by a single father in the small town of Buffalo, Missouri, Kelly has fond memories of cash-strapped life in the Ozarks that strongly influence her writing and way of life.
When she's not writing manuals for money or writing poetry and fiction for unmoney, or training for her next triathlon, Kelly enjoys sewing, playing dodgeball, and politics.  She is an avid volunteer and fundraiser for the Cystic Fibrosis Foundation.
Book links:
Amazon   *   CreateSpace   *   Smashwords   *   Barnes & Noble: 
Social media links: