Indie Book Promo would like to welcome Charity Parkerson to the blog! Charity is the author of The Society of Sinners.  She wants to share some information about her work and if this story sounds like something that you would be interested in, please use the buy link at the end of the post to pick up a copy!
Blurb for "The Society of Sinners"
"Voted one of the top 10 Best Books by an Indie Author in 2011″- Paranormal Reads
"Evil lives in the dark.  We instinctively know this as children."
Nestled high in the mountains…
The quiet community of Jackson Station is where everyone knows your name and…species?
Vampires have existed since almost the beginning of time, but not in the way we have been led to believe. These were not men cursed by the devil but warriors blessed by God to have great strength, agility, and eternal life.
Eternal life came at a price, the price of human blood. Some chose to live within their own society; The Society of Sinners.
This is the first in Charity Parkerson's new sinners series introducing a paranormal world filled with vampires, werewolves, changeling, and God's greatest warrior.
Excerpt from "The Society of Sinners"
Cherish stared down at the papers she was holding unable to believe what she was seeing.  These papers offered her a whole new life. "But why?" she couldn't help but ask.
Brandon shrugged. "Because Jazz brought you to our attention, and once we heard your story we knew you'd be a good fit.  Plus, when someone like Jazz Anderson asks for a favor people tend to sit up and take notice."
"What do you mean people like Jazz?"
Brandon cocked his head to one side as if confused by her question.
"You mean you really don't know?"
When she only shook her head, Brandon said. "He is Art Assass`i De`u," when Cherish looked confused Brandon translated. "The Killing God, part of a Cantonese warrior clan.  They are trained from birth that God has chosen them to rid the world of evildoers.  Jazz is one of the world's most elite killers," before she was given a chance to absorb those words, he asked. "Do you really not know anything about your own kind?"
Cherish shook her head. "Only what my maker taunted me with in anger trying to scare me into not rising up against him.  I have learned over the years to take his words with a grain of salt.  Some of the things he said were the truth, but most things were not," she shrugged as if it were unimportant.
"Art Assass`i De`u are very rare.  They are born of two Society immortals, and are distinguished by two things.  First, they are born with half their body covered in an intricate design showing where they have been touched by the hand of God, and they also have no need of blood to sustain them.  It is considered to be the greatest honor to give birth to such a child, but they must be handed over to the warriors at birth for training," he paused, and Stacy jumped in. "He has never lived anywhere he was not hunted.  He has never known warmth or comfort.  He feels no emotion, and he has never known love."
"Until you," the reply came from the doorway.  Cherish's head snapped around at the sound of Jazz's voice.  He stood with both arms braced against the doorframe staring at her with an intensity that made the hair on her arms stand on end.  "Until you," he repeated. "Everything they have told you is the truth up until I met you."
Author Bio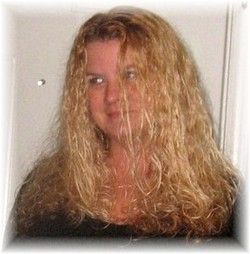 Charity Parkerson was born in Tennessee where she still lives with her husband and two sons. She is the award-winning author of several books, including six Amazon bestsellers.  She is also co-host of The Melissa Craig and Charity Parkerson show.
She can always be found:
Blog     *     Amazon Page     *     Goodreads
This book is available online where most books are sold, but here are a few links:
Amazon:  Kindle and Paperback     *     Barnes & Noble: Nook and Paperback