Indie Book Promo is happy to welcome Lauren Pomeroy to the blog!  She is here to talk about her new release: Alexander: Sacrifice. Instinct. Rebirth.  I hope you enjoy learning about her and her work.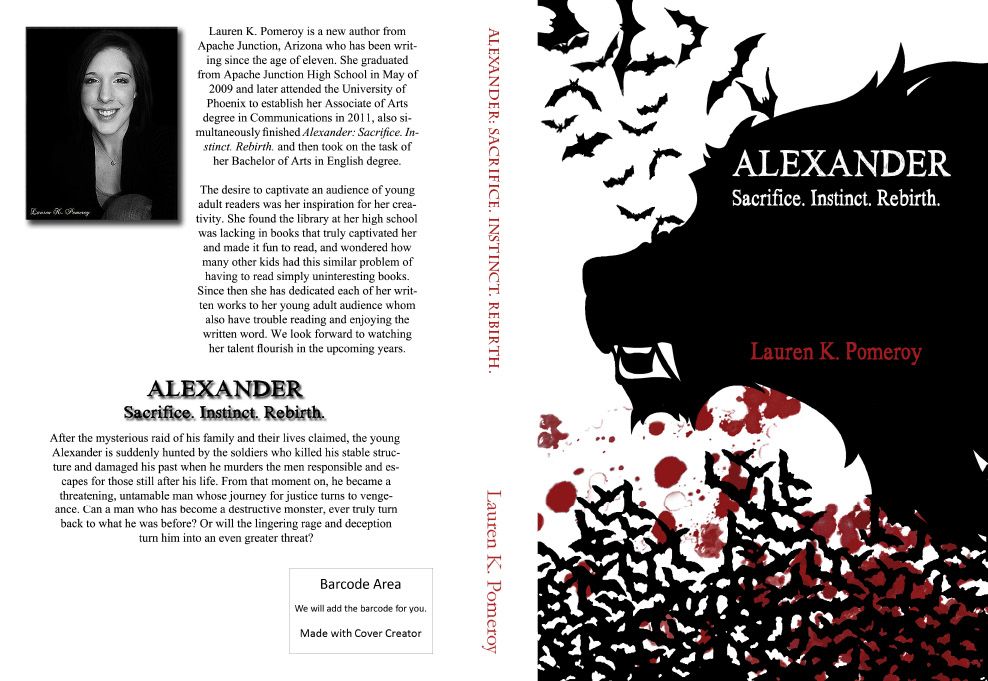 IBP – Tell us about your new release?
Lauren – "Alexander: Sacrifice. Instinct. Rebirth."  Is a fantasy fiction novel about my rendition of how Dracula first came to be. You see, I didn't really believe that Bram Stoker's version, though brilliant, was spot on, and I don't believe the Twilight Saga does vampires justice. I think that if there really were vampires and werewolves at a point in time (considering we know so little about the middle ages, middle-earth, medieval sort of era) they would have lived at this age, not in modern times as teens who've lived forever, and not so out-of-the-blue in Transylvania as a sophisticated count. My rendition of the two beasts are more raw, savage, ruthless, and blood-thirsty which is what I believe fiction readers have been robbed of with the more modern themes of vampires and werewolves. Also, the book covers a legend I have heard of through passing; that werewolves came first, and when they were killed, they returned to live out their second life in the form of a vampire, and once they were killed in that form, their life cycle ended. This particular rumor is crucial to Alexander's journey in this novel.
IBP -  Tell me a little about yourself
Lauren – My full name is Lauren Kaye Pomeroy, I was born June 15th 1991 in Arizona, and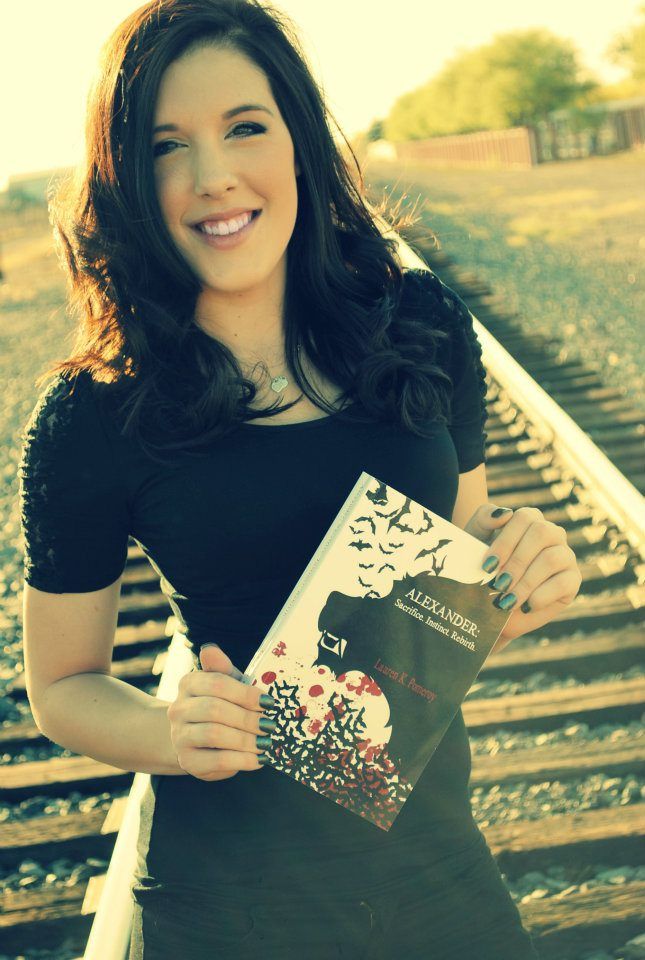 lived in Apache Junction for my entire life. I started writing when I was 11 years old and from that moment on I knew this was my dream, this was something I wanted to do more than anything in the world, and I remember my first story was about a group of aliens, and it was only about 15 pages long, and then I scrapped it and began writing my first fantasy trilogy, all books consisting over 250 pages – needless to say, it somewhat stunned my parents. However, though everyone was very surprised, I wasn't whatsoever. I didn't have very close girl friends, and in fact I preferred hanging out with my family and my brothers over flaky, young school buddies because unfortunately, I always got my feelings hurt over bullying and cattiness. Due to the lack of companionship, it thankfully gave my imagination wings to soar and create. I wrote 10 novels by the time I was 17, and in those ten, were the three books of "Alexander: Sacrifice. Instinct. Rebirth.". For the past three years I've been revising, editing, having a professional edit them as well, and then condensed it down to a three part novel.
IBP – Did you have support at the beginning and/or during your writing?
Lauren – Not really, I've done almost everything on my own, and am still working so hard to try and get "Alexander" out there to readers. It's difficult when you do not get magically discovered by a publishing agency, or have a miraculous stroke of luck which makes you famous overnight. Not every writer gets there that way, and this is my dream; I cannot wait for that miracle to happen to me. I have to get me there.
IBP – Do you listen to music while writing? 
Lauren – I do, it's the only way I can really complete my writing, I feel it evokes better vocabulary, better emotion, and a better imagery detail of what you are trying to write. However, I don't listen to just any music. I listen to classic songs, like the Swan Lake ballad, and Film Score soundtracks; and believe me, I have a huge collection.
IBP – What is it you love most about writing? What's the hardest part of writing for you? 
Lauren – What I love most about writing is the part of creating and sitting there, free to imagine. While driving home, I think of scenes my characters will have, conflicts, conversations, and when I get home I write them down and elaborate around the ideas and piece together my story, or I may be writing my outline by hand and not think of anything until after it's done, and think, "I need to put that in there!", so naturally my handwritten notes are all over the place, but it still pleases me to see my hard, handwritten works. The hardest part however is getting writers block, and I get it pretty bad, and inbetween having a full time job at an Animal Hospital, and going to the University of Phoenix online, there are times where I won't write anything for months, and then out of nowhere I'll begin, and complete my book in 3-5 months depending on it (considering when I don't have writers block, small portions still get finished).
IBP -  Why did you choose the genre you write in? 
Lauren – I always liked Fantasy stories because it left more room for anything to happen. I remember watching movies like The Neverending Story and the incredible world that was created by this story, or something like The Pagemaster when I was little. The genre gives opportunity to create anything you want, and it will be rightfully understood by its readers.
IBP – What inspired you to write, you took any ideas from other books, movies etc? 
Lauren – Movies mainly inspired me, being that my favorite film was Braveheart, I thought the inspiring journey of William Wallace, the heartache he endured, and his triumph over those who ruled him was phenomenal, and I wanted to write stories that shared that same concept. I also appreciated films like Gladiator, and of course Lord of the Rings.
IBP –   Your favorite books and author? 
Lauren – My favorite novel that really grabbed my attention was the Inheritance series, I've read all of them by Christopher Paolini, and I love them.
IBP –   How important do you find the communication between you and your readers? Do you reply to their messages or read their reviews? 
Lauren – I contact all my fans personally and thank them for liking my page, as well as respond to their questions, comments, ect. to whatever site they post a reply/direct message on. I think it is essential because it involves your personality, and to show that you are still in control of the books you write, and your fans. I don't need an agency to run me one day, I don't want to be monitored all the time, nor reprimanded for what I say out of context to my contract, it all seems to be far too close to losing your freedom of speech – and you're a writer? It makes no sense. As far as reviews, I know I will be excited to read them once I finally have some! I just wish more people would take a chance to read it, and I find it upsetting that books with modern day vampire stories have somewhat ruined fantasy aspects of the stories and my story personally – people no longer want to read those kinds of books, however I still have hope. I want to change that, and keep these classic monsters interesting still, but I assure you, this one is very different from those currently on the shelves.
IBP –   Vampires or werewolves? 
Lauren – Werewolves, and no not the whole "Jacob" and "Edward" thing, to be honest, I didn't like the books, and I'm really not a huge fan of the films, though that hasn't stopped me from seeing each one either on DVD or in theater. I was more of a Harry Potter and The Hunger Games fan. I choose Werewolves because there is more of a savage-like quality to the human still attached with the monster. To try and hold on to your humanity, to try and love, and yet not be able to be apart of the world, to hide yourself away, due to the fact that you cannot predict your own self-destruction; it's a very powerful curse to have. Vampires however just seem cold, ruthless, and brutal; they are a full-bred monster entirely, there is no human left, it just reminds me of a feeling-less shell that resembles a human form – though of course, as we have seen, not all of them are as such.
IBP –   What projects are you currently working on right now? Would you mind sharing them with us? 
Lauren – Right now I have a lot of projects, I know for a fact the next two novels that will be released are "Corruption" since it is being edited at the moment. It is a novel about a man named Hadrian, whom is betrayed by his King and in a story so twisted, and traitorous on his behalf, that he is backed into a corner and forced to kill or be killed, all in the name of saving his companions and justifying the murder of his wife Emeline. I am writing this novels sequel called "The Dragon Prince", which deals with the second book of Hadrian's journey and that his enemy has returned, however in a different form, and he must save the Kingdom he served and fought to get back, once more from an even greater threat.
Another novel I am in the midst of writing the novel too is pretty new for me; it's strictly a romance novel called "The History that Unites Us" which is a modern day story about a college student couple ending their years at their university, and during the vacation period go on a trip and discover a rumor about a legendary psychic whose predictions were too surreal, that her fame made her fall off the map. In this, they test a rumor they had learned at the university in a mythology class; Your birthmarks are evidence of where you died before in your previous lives. When going to test the theory on the supposed "glorious psychic" they get much more than they bargain for when getting sent into their past, and realizing that they may have loved each other for over a thousand years.
Also during this time, I am writing the prequel to "Alexander: Sacrifice. Instinct. Rebirth." Called "Valentin Marcel: Dawn of the Nightwalkers" – this book is the history before Alexander's journey, going back to Chapter One, and beyond. This tells what happened before his father, Valentin Marcel, fell in their courtyard to his death and the Great War between the Beasts and The Nightwalkers.
IBP would like to thank Lauren for dropping by.  Be sure to check out her book and follow her/like her.
Links:
Purchase on Amazon
Social Media Links:
Official Author Page     *     Facebook     *     Twitter     *     Blog     *     AboutMe