Indie Book Promo would like to welcome Sissy Silva to the blog! Sissy is the author of Random Ish & Other Nonsense and is here to share about this book.  If this sounds like something that you would be interested in, use the buy links and pick up a copy.
Random Ish
"I woke up one day with an epiphany (could have been gas) and realized that I wanted to laugh more and cry less. I'd been allowing many life experiences to cause me distress, so I began using my sarcastic bitterness laced with humor (it's charming. Really!)…friends kept telling me that I should write a book…so that's what I did."
"I use the term "book" lightly. If you are looking for literary art or intellectual stimulation you might want to pass on this volume."
Random Ish & Other Nonsense is a novelty book for friends or family. It is meant to be an easy read that makes you laugh and taken lightly.
I love when I am told "the people around me must have thought I was crazy the way I was laughing by myself." I hope it has the same effect on you.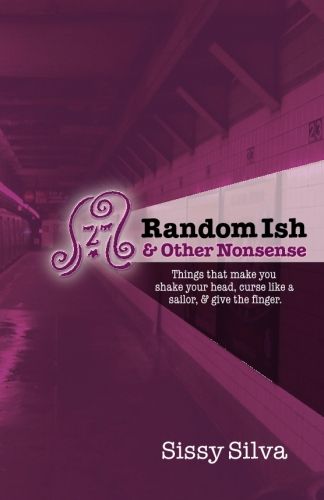 Chapter Blurbs:

Kids
Child: "There is never any food in the house!"
Mom: "I know. I bet you wish that $350 Xbox you bought came with a box of crackers."
Men
If you aren't on a swim team do not wear Speedos. EVER
(The polar bear club is not a swim team). Rubbing your erection on my ass while we are spooning is not cuddling.
Chores
I had a brief spurt of motivation and cleaned out the refrigerator. I was tired of seeing that grape on the bottom shelf. It was on its 5th shade of green (at least I think it was a grape).
Bio
Sissy is a native of Manhattan's Lower East Side where she continues to reside with her 2 sons. She works full time as an administrative assistant in a corporate law firm. In her spare time she enjoys reading, spending time with loved ones, crafting and sleeping.
In her own words:
"I believe everyone has a story and continue to remind myself of this when someone rubs me the wrong way. I have insisted on learning things the hard way – but sometimes that lesson is the one that carries the depth and pain I need to understand it."
For those who think she is angry or male bashing:
"I don't like injustice – it doesn't matter who is doing it. Life isn't fair and neither are a lot of outcomes – so yeah there are times when I am angry and there are times when my opinion is strong but it doesn't just apply to men. When I post on my Blog, Facebook or Twitter it is usually from random thoughts, conversations or something that I or someone I know has experienced. It isn't about taking sides or advocating my beliefs, it is just me writing about how I feel at that moment about that particular incident. Who knows how I will feel about it 2 months from now – life is about growth and experience, take what you like and leave the rest."
Random Ish & Other Nonsense is available:
Amazon     *     Barnes & Noble     *      Createspace
Sissy can be found:
Thank you for your support.