Indie Book Promo is happy to welcome Toni & John Rakestraw to the blog today. They have a book out, Titanic Deception that they are here to talk about. Sit back and enjoy!
IBP – Tell us about your new release?
Toni & John – Conspiracy theories have always intrigued us, and who doesn't feel some affinity for the Titanic? Titanic Deception let us indulge in both topics. The book starts off in 1912, when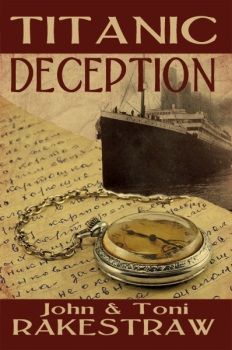 Michael's great-grandmother, Alice, boards the ship as a nursemaid for the infant of a family from Canada. On board, she finds love, but the sinking changes her life forever. She writes of her experiences in a journal, which finds its way into her great-grandson's hands. Michael reads the journal and begins a blog about the Titanic. He finds out why the ship sank, which brings him to the attention of the man running a secret company that was responsible for the sinking, among other historical events. When they kidnap his girlfriend, Michael and Soft Kitty, a conspiracy theorist, must step up and save the day.
IBP – Where would you live if you could live anywhere in the world?
Toni – The UK. I've always been attracted to that area. The coastlines are beautiful, the culture speaks to me, and several lines of my family tree started out there.
John – I've always wanted to see the foggy streets of Victorian England and meet the greatest consulting detective of all time… Sherlock Holmes and his friend Dr. Watson. Plus, Dr. Who!
IBP – Do you write at a laptop/desktop or do you write freehand?
Toni – I type on my desktop computer. The only thing that would make me happier would be one of those fancy split keyboards, to save wear and tear on my wrists. Well, and if I could just slide my entire desk outside into the shade when I wanted.
John – I use a laptop and pen and paper at times. I like pen and paper, but the laptop is better for corrections! White-out is a bugger to get off the screen…
IBP – Do you have a day job?
Toni – I'm a freelance editor during the day. I'm lucky in that it is something I truly enjoy doing, and it allows me to be home with my children.
IBP – Do you have any advice for unpublished authors?
John: The first chapter has to grab the reader; the last chapter needs to make the reader want to grab for your next story! Use a good professional editor and remember, a blank piece of paper or screen is the writing god's way of telling us how hard it is to be an author! Now, please fill it with wonder… ;-]
IBP – What is it you love most about writing? What's the hardest part of writing for you?
Toni – I love to see the story taking shape. Sometimes the characters just fill in the scene perfectly, which makes for easy writing. The hardest part is dealing with all those little in between scenes that set up the good stuff. Since we write historical fiction, I end up having to research some things that I'm just not that interested in, but end up being crucial to the story.
John – To really be good at writing… you have to make that character come to life. It has to have a whole life story, from you, that it lived before you can give it life in front your readership. That magic has a process that you have to live in your mind and soul. Writing comes from a very special place in all of us and sharing that is the hardest part of writing. Remember, to feed the soul of an author, read their books!
IBP – Did you do any research before start or during of the writing of the books?
Toni – I do tons of research. For Titanic Deception, I read all the inquiry testimonies, pored through the passenger lists, the list of recovered bodies, plans for the ship's design, how to defuse bombs, catering menus, you name it. For our next one, I've already joined a couple of forums dedicated to our subject.
IBP – How did you come up with your premise for your books?
John – I'm the idea guy. Titanic Deception started out as a World Bank conspiracy story that was going to rush around the world and end up in England with the heroes stopping a Guy Fawkes bombing from happening under the House of Lords, saving the big economic leaders of the world. That all got too complicated, and we came up with the wonderful story we have now. Wall Street issues, the 99%, the 100 year anniversary of the sinking of the Titanic all wrapped up in a romantic thriller. All that was something we could go with and we did.
IBP – Are there any particular books and/or authors that inspired you and continue to do so?
Toni – I admire J.K. Rowling… how she could manage to keep everyone and everything straight in the world of Harry Potter is amazing. Another of my favorite authors is Jim Butcher. He manages to balance humor and action extremely well, and I get very attached to his characters.
IBP – What is the one book that you think everyone should read?
John – Eats, Shoots and Leaves, by Lynne Truss — The runaway bestseller that has everyone minding their p's and q's (and their commas and semicolons).
IBP – How important do you find the communication between you and your readers? Do you reply to their messages or read their reviews?
Toni – I find it extremely important to interact with our readers. I try to make time to respond to any messages they send and read the reviews they post. It is wonderful of them to take the time out of their own busy schedules to write to us or post reviews.
John – Talking to people about what we love to do is something we do every chance we get. So, making marketing more about relationship building… just sitting around talking, having tea, coffee, wine or a beer. No hard sell, just friends enjoying friends. That is how I would love our interaction with our readership to be… so far it been close to that!
IBP – What are your thoughts on ebooks? (i.e. love them, hate them, wave of the future)
Toni – I like ebooks. I still love my print books, but ebooks are definitely gaining ground in my life.
John – I love the ease of eBook. But, still love the smell of a print book!
IBP – What is in the works for you next?
Toni – Our next project is still mostly in the research phase, but writing has started a bit. This one will be darker. It's based on Jack the Ripper, and will probably cross into the horror genre.
John – Saucy Jack is our next adventure. We get to walk the dark alleys, blind turns and mis-steps of the victims in the famous Whitechapel Murders. Just so you know… I'm truly afraid of the dark!
John Rakestraw
Twitter * Facebook * Website
Toni Rakestraw:
Twitter * Facebook * Rakestraw Book Design * Rakestraw Reads
Titanic Deception
Facebook * Amazon * Smashwords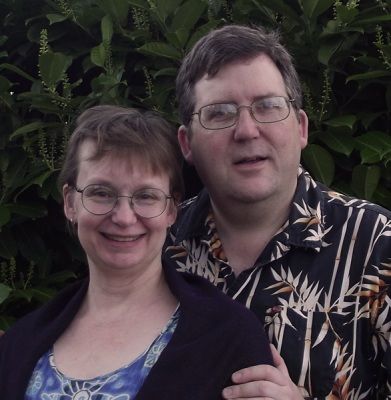 Bio: John and Toni Rakestraw have been married for more than 25 years. They have collaborated on a lot of projects over the years, and they've finally written a book together, which is something they've dreamed of doing for a long time.
John does a show on Blogtalk Radio for writers called The Platform. Along with his co-hosts, A.T. Russell and Liz Borino, he interviews experts who can help writers make their books the best they can be and get those books out there to readers. He's also working on a series of videos to help writers develop their stories and characters.
Toni is a freelance editor who enjoys helping authors polish their books and get them ready for publication. She also formats books for both print and digital publication.
They've got eight wonderful children who fill their little cottage with a lot of love, talent, and energy. Their oldest daughter, Morwenna, designed their book cover.