Indie Book Promo would like to welcome Kathy Hall to the blog!  She is here to share some information about her latest book, Red Mojo Mama.  If this sounds like a book that you would be interested reading, use the buy links at the bottom of the post to pick up a copy!
Book Blurb -

Lydia "Red" Talbot has lost her mojo after three years of mourning for her husband, but not for long. She's inherited a valuable mobile home park in the Gold Country of California, filled with a cast of eccentric characters. Her plans to sell it and take a world cruise are threatened by a hot handyman, a sizzling story in the rapidly growing town of Nuggetville and the appearance of her husband's ghost, who has decided to hang around awhile as he searches for his next life.Boredom sets in as she waits for her fortune to materialize, so she takes a part-time job as a reporter. Fancying herself the community newspaper equivalent of Christiane Amanpour, Lydia uncovers some shady doings by the City Council and a slick land developer. Citizens are bullied and her life is threatened, as she struggles to both expose the crooks and stay emotionally independent of the community of crazies she has been left by her beloved Aunt Esther.Red is a spunky, smart-alecky thirty-something with more heart than she'd like others to see. She's absolutely fearless and too honest for her own good sometimes. She's also torn between love for her dead husband, Mac, and the new man in her life, Joe – handyman and chef.
Excerpt:
I moved my head slightly as I came to and all hell broke loose.  The pounding was unbearable. On top of that, I had a terrible sense of foreboding. I couldn't remember a thing, but something told me not to open my eyes. Where was I? How did I get here?
"Come on, Red. Open up. I haven't got all day and we've got stuff to talk about."
Oh, no. Now, I remember.
I was hot, tired and sweaty but I'd just managed to box up the last of thirty-plus-years worth of accumulated crap and that was something. Downsizing from a three-bedroom house to a furnished trailer was no easy feat. Damn near everything had to go.
It actually felt great to clear out the past. With each piece I managed to throw in the garbage, offload to some poor schmuck in a yard sale or palm off on the local thrift store, I could feel myself lightening up and it was about time. The last three years of mourning for my husband, Mac, had taken their toll and I felt more like a worn out old sponge than the woman he had chased around the house on a regular basis, calling for his Mojo Mama.  Whatever was once hot about me, I was pretty sure it had evaporated. My mojo was long gone.
Surrounded by mismatched stacks of cardboard boxes, I had to wiggle between two neck-high mounds to get through to my shabby old couch and plop myself down on it with an unladylike thud. Somehow, I managed to raise my arms one last time and run my fingers through my wild mass of hair. I felt something sticky, so I yanked. Clutched between my fingers was a piece of packing tape with several strands of curly red hair attached.
In three minutes, my muscles are going to stiffen up and I'm not going to be able to get out of this chair, I thought.
I spotted a battered cardboard box, already taped up but unmarked; leftover from the move to Phoenix, obviously, I thought. Curiosity got the better of me and I tore the strip of yellowing tape from the top and peeked in.
"Oh, hell!"
Instantly, the tears began to roll down my dusty face, leaving a muddy trail behind. Inside were all the pairs of underwear, briefs and boxers, which I hadn't been able to toss out when Mac died. Somehow, it had seemed disloyal. Oh, sure, I'd given away his sporting equipment and shipped his trophies to his parents, but his undies – I couldn't throw them away. I pulled out a very old, nearly see-through pair of tidy-whiteys and rubbed them against my cheek. They were still good for wiping away tears.
Only a few minutes passed between the tears and the anger. I was suddenly spitting mad at Mac… and myself. How could he have left me and why couldn't I just move on? I kicked the box and it tipped over. I kicked it again and a hole appeared. That felt a little better. I taped the top back together, stood and tossed it as hard as I could through the doorway towards the pile of garbage accumulating in the center of the living room. It made a satisfying clunking sound. The offending cardboard rectangle had been subdued. I brushed my hands off on my jeans. Mental headlines: Crazy Widow Murders Defenseless Box.
*   *   *   *   *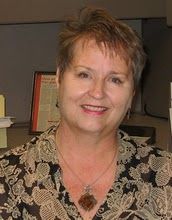 Author Bio -
Kathy Lynn Hall is the proverbial Jill-of-All-Trades, having been everything from an executive to a cab driver and pig farmer to newspaper editor, all of which provided her with an existence filled with adventures such as homesteading in Alaska in her early years, climbing into Cessnas countrywide to do swimming pool counts from the air and later pursuing corruption as a small town reporter.
Kathy can be found on her
blog
Red Mojo Mama is available on Amazon