Indie Book Promo is happy to welcome Rose Moriarty, author of Final Life!  Rose is here to answer a few questions and to share some information about her book.  If this book sounds like something that you would be interested in reading, please use the buy links at the bottom of the post to pick up a copy or two.
IBP – If someone else wrote a blurb about your book what would it say?
Rose – Seventeen-year-old Dominique has been killed in each of her past lives. To survive her final life, she'll have to discover the secrets of her past before confronting the evil energy being who's been hunting her for lifetimes.
IBP -  Who are your cheerleaders?
Rose – I'm super lucky because I have two sets of cheerleaders: my family and my writer friends. In the family, my number one fans are my husband and my two awesome kids. Of my writer friends, I connected with Mary Lindsey, Jessica Capelle, and Iona McAvoy early on. The four of us started the Houston YA/MG group. I consider them to be my first writerly cheerleaders, and I love them dearly! Then I met Rachel Harris through the group, and she's also one of my cheerleaders and very close friends.
IBP – Have you always wanted to be a writer?
Rose – Yes! I've always wanted to be a writer, but I grew up in a family of non-readers so I never really considered it an option as far as careers go. Instead, I became a lawyer, which requires a lot of reading and writing by the way, and was content with my career choice for a long time. It wasn't until Stephenie Meyer exploded onto the scene as a mom who wrote from home that I thought, hey, I can do that!
IBP – Do you have any advice for unpublished authors?
Rose – My number one piece of advice is to get connected with the writing community and join a critique group. (Okay, that's two pieces of advice!) A really good critique group will help improve your craft in so many ways. Just be sure to find the group that's right for you. Also, getting connected with the writing community is super important. You'll learn a ton about the writing industry and the craft of writing. No matter your level of writing or years in the industry, there's always something to learn as the industry is ever changing. And truthfully, writers are the most supportive and caring people out there. You just need to reach out!
IBP -  Why did you choose the genre you write in?
Rose – I've always been attracted to books of other worlds. Probably because my first book love was The Lion, The Witch, and The Wardrobe—Book One in The Chronicles of Narnia. I devoured the series! From then on, anytime I went to a bookstore, I'd head straight for the science fiction/fantasy section. Always! Even today, sci-fi/fantasy is my all time favorite thing to read. When paranormal burst onto the scene, it wowed me because for the first time ever the fantasy elements I always loved so much were woven into the present day. So now I'm hooked on paranormal, too!
IBP – Where do you get your inspiration?
Rose – I'm inspired by other books I've read, television shows I've watched, even my favorite movies. So it's hard for me to pinpoint my inspiration. And truthfully, inspiration is everywhere! Plus, my brain never stops working on ideas. Sometimes my family, mostly my kids, laugh at me when I get that spaced out look. But really what I'm doing is imagining a scene in my head. Or practicing dialogue. I know, it sounds crazy, but it's true!
IBP – What book is currently on your nightstand?
Rose – I just finished The Sacred Band, the third book in David Anthony Durham's Acacia trilogy. It's a monster of a book, but so rich in detail and character development. He's a great author, and I recommend him to any sci-fi/fantasy readers out there. After that I've promised my son that I'll read the Maze Runner. He just read it and LOVED it! And then, after that, I promised my daughter I'd read Beautiful Creatures. As you can see, we are a reading family!
IBP – Where can readers find your books?
Rose – My book is available on Amazon, Barnes and Noble, Smashwords, and CreateSpace. But to make finding my books and finding me easy, just go to my website at www.rosegarciabooks.com. My books can be found here and I can be found via my site by either emailing me or connecting with me via Twitter or Facebook.
IBP – What are your thoughts on ebooks? (i.e. love them, hate them, wave of the future)
Rose – Love them! We have two Nooks in the house and someone is always using one! I also read books on my iPhone.
IBP – Are you reading or writing something else at the moment?
Rose – Right now I'm writing the companion to Final Life, Final Stand. It's slated for release early winter and I'm having the best time writing it! So stay tuned!
*     *     *     *     *
Final Life by Rose Garcia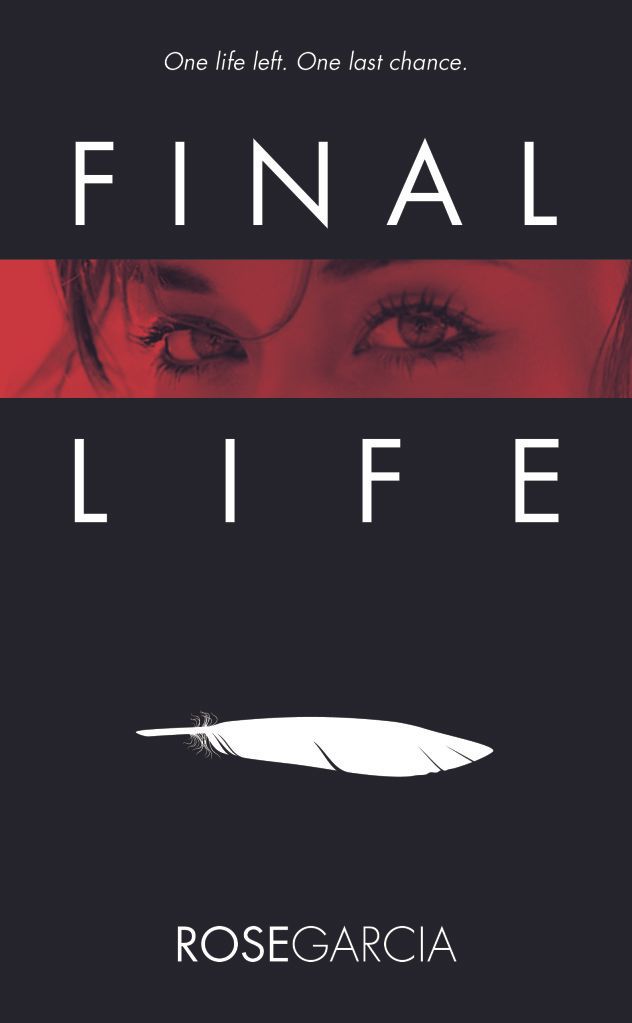 Blurb
Eight lives. You'd think Dominique would get it right, but she's failed every time. Now on her final life, Dominique must discover the secrets of her past before confronting the Transhuman hunter who wants to kill her for the last time. Farrell, a mysterious Transhuman protector, and Trent, a hot guy from school, want to help. But it's up to her to get it right this time—or she'll be dead. For real.
*     *     *     *     *
Final Life by Rose Garcia    
Excerpt
When I touched the feather, a tingle of energy connected at my fingertips. I flinched, closed my eyes, and held my breath, waiting for the heat and dust to fill my senses, but it never came. Instead, a warm and soft breeze caressed my face, followed by the smell of sand. I opened my eyes to find myself standing on the shore of Elk Rapids beach.
The blue water filled with tiny ripples from the gentle wind, and way out in the horizon the deep blue water blended in with the cloudless sky. But how could I be here? How was it possible?
"You need to think of this place when you're scared." I spun around and saw Farrell sitting on a nearby cluster of rocks. "You're comfortable here."
Home, where I longed to be. Of course I wasn't afraid here. I sat beside him and scooped up the sand with both hands, letting it sift through my fingers. "This isn't real," I said. I looked around and didn't see anyone else. On a day like this, the beach would've been crowded.
"Yes and no. Yes, it's real, but only to us. We're the only ones occupying this space right now." His eyes glued on mine and his head tilted to the side, as if waiting for me to remember something.
"I'm afraid of dying," I said. "Not so much the death part, but the not living part." I scooped up another handful of sand and held it tight, the gritty granules hardening into a ball. "There's so much I still wanna do, ya know?"
"I know," he said. "But there's always hope. The end is not yet written." He looked up and I followed his gaze. That's when I noticed that the deep blue sky had filled with stars—millions of them. The day has suddenly turned to night. He stood and brushed off his jeans. "You ready to go back?"
No, I wasn't ready, not at all. This place was home to me, a place of safety.
He held out his hand. "Come on, it's time to go."
*     *     *     *     *
 Bio:
I'm a lawyer turned writer who's always been fascinated by science fiction and fantasy. From a very young age, I often had my nose buried in books about other-worlds, fantastical creatures, and life and death situations. More recently I've been intrigued by a blend of science fiction and reality, and the idea that some supernatural events are, indeed, very real. Fueled by my imagination, I created The Transhuman Chronicles—a series of books about people who have overcome human limitations. The first in this series is Final Life. Between juggling family life with my husband and two kids, I'm working on the companion to Final Life. So stay tuned!
Rose can be found at:
Twitter   *   Facebook   *   LinkedIn     *     Goodreads
Final Life can be purchased at: