Indie Book Promo is happy to welcome Joe Hefferon to the blog!  He's here to answer some questions and share about his new book, The Seventh Level.  If this book sounds like something that you would like to read, please use the buy links at the bottom of the post to pick up a copy or two!
IBP – How would you describe your book in 20 words?
Joe – It's about viewing your life and primary goals in terms of a place, to be designed, built, managed and sustained.
IBP – When did you decide to become a writer?
Joe – I always dreamed of the time to write whatever I want, but I allowed life to get in the way. While still working in law enforcement, I completed my first novel. I found I loved the process. I loved the work as much as result. That made me certain of what I would do upon retirement.
IBP – Aside from writing, what do you enjoy doing in your spare time?
Joe – Reading. I also love spending time with my kids. Professionally, I'm fascinated with the world of personal development and I enjoy speaking and training. If I could divide my work life between writing and speaking, I would die a happy man.
IBP – What are your guilty pleasures?
Joe – Wine and chocolate, and not the gross stuff in holiday boxes filled with gelatin – ugh. I like dark, heavy, chewy, full-flavored red wine and relatively simple milk chocolate. I used to smoke cigars which made for a killer trifecta, but in the interest of pulmonary well-being I gave them up.
Wine & Chocolate are like lovers, conversation, dinner and books. So many varieties and moods, so much sensuality and richness. Sweetness is nice but sometimes you have to take in a little dark and bitter, just to tease your tongue but, wait… I'll be right back…
IBP – What do you love about writing?
Joe – The thing that intrigues me most about writing is there will never be an end to the myriad ways in which a story can be told. I'm always learning and I will for a lifetime. There will always be new writers to learn from and new ideas to propagate with your own. There is always a fresh perspective, a more ornate or a simpler way to turn a phrase. Writing is a labor of love that you never master.
IBP – Do you know the title before you start writing?
Joe – That's a great question because love titles and often agonize over them. They can be so important. Sometimes a title can help you get started or figure out where you might end up. In The Seventh Level, I encourage people to name their projects, to give them life, an identity, some palpable reason to care about them. I usually know the title before writing because those few words represent the idea that's bubbling inside.
IBP – Do you do research before you start or while writing?
Joe – I follow a suggestion I saw Malcolm Gladwell give in an interview: write a little, research a little – write a little, research a little. My current book is non-fiction, so extra care must be taken in the research. I believe strongly in the premise of my book so I would be mortified if I misled someone. If you try to do research alone before writing, you'll never get started. You'll always be looking for one more source. A professor named Edmond bacon once told architect Doug Patt, "It's in the doing that the idea comes."
What I find happens is the act of writing fires new ideas. In fiction, sometimes the characters (the dialogue) tell you how the story will unfold. Writers will understand that if others find it strange.
IBP – What is your favorite author and what's on my nightstand?
Joe – My favorite author, by far, bar none, to the exclusion of all others and with due respect to literary superstars, is Cormac McCarthy, Saint Cormac of the Most Literati (12 yrs Catholic School).
I once read that he is the greatest writer in the English language and I would certainly agree. Shakespeare was a genius of course and there are many phenomenal writers, but McCarthy has a style that makes the language beautiful. In a TED talk, novelist Elif Shafak said writing in Turkish for her is poetic while writing in English is more cerebral. I think westerners tend to view languages like French and Italian as being poetic or lyrical, but McCarthy changes that. I find myself re-reading passages over and over. Whatever the themes of his books: violence, desperation, depression, loneliness – he draws the reader into those worlds in a way that lingers with them, long after the book is closed.
What's on my nightstand is The Alchemist, by Paulo Coelho. I'm reading it to my son. I read his new book, "Aleph" first and loved it so I picked up The Alchemist. My virtual nightstand has Jake Needham's "The Big Mango" keeping me up at night reading. Jake is a real pro and a true raconteur. I've said before, if you're an aspiring novelist, let Jake take you to school.
IBP – Do I prefer Twitter or Facebook?
Joe – For me it's a no-brainer. I prefer Twitter. I've made some great connections on Twitter like Rachel Thompson, Yamina Collins, Michele Jennae and others who have been immensely supportive and helpful. FB to me is more for people to post BBQ pics and get in trouble with old girlfriends. The Twitter timeline gives you a broader view of what's happening in real time. I found out about the Aurora shooting on my timeline (that may indicate I'm a bit of a recluse).
I'm not big on self-promotion though I understand it's important. I use Twitter to share ideas, spread the joy of the work of other writers, pass along helpful blogs etc. Little by little I'm gaining exposure.
IBP – What is your favorite place in the world?
Joe – Wherever I am with my kids and a hearty bottle of old-vine zinfandel or a Paul Hobbs cabernet. As far as travel? I sometimes think Vietnam because of the memories of being there to adopt my son, but the most enchanting place I've visited is Florence, Italy. Every detail of that city felt great to me. The food, the architecture, the art, the women, the Moretti beer, ahhhh I'd go back in a minute.
IBP – What advice would you give to your readers?
Joe – Don't accept mediocrity. You don't have to change the world, just change what you do in your world. Try a little bit harder. Read more, explore new ventures, study a new subject, take a walk, watch less television, never settle for where you are. Find a new normal, then reach for a higher plateau. You don't have to be Erasmus to have an extraordinary life. You can lead a life less ordinary, filled with possibilities and an endless supply of new things to learn and pass along. Now go look up Erasmus.
Blurb: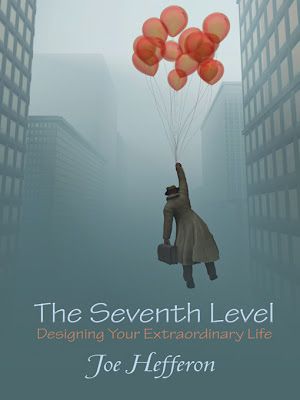 Do you feel a rage to achieve? Are you unsure how to begin? What are the secrets to building an extraordinary life? What are the best methods for generating ideas, formulating a plan and constructing your vision?
In The Seventh Level, Joe Hefferon guides you through a seven-step process distilled from an exploration of the world's most ingenious minds-the architects of the great cathedrals and skyscrapers, the visionary galleries and awe-inspiring residences. Nearly every important moment of our lives is in some way connected to a built place, and now that place can be you.
Join forces with the architects to design the life you've always dreamed of. This is your pocket renaissance, the new era of you, the quest for that elusive seventh level.
Bio: Joe Hefferon lives for the juxtaposition, to see concepts working well together when they shouldn't–unlikely allies joining forces in search of fresh perspectives.
Joe retired from law enforcement after twenty-five years and now writes full-time.
He has contributed to several online newspapers and magazines including TheIndieTimes.com and About.com/WomeninBusiness.
He has two children and lives in Westfi eld, New Jersey.
Joe's first book, a noir crime novel, The Sixth Session, was named Book of the
Year for 2010 by Police-Writers.com.
*     *     *     *     *
Joe can be found:
The Seventh Level can be purchased at: