Indie Book Promo is welcoming to the blog Rebecca Tsaros Dickson, author of I could Tell You Stories.  She's here to share a guest post and also some information about her book.  Enjoy!
"Tell the truth"
The year I turned 12, I was thrust into the kind of emptiness that makes your bones shake. Held, suspended, in the middle of a big, wide nothing. It was the same year I met John. We lived seven miles apart. (I didn't learn this until later, when I clocked it in my mother's Toyota.) It started on a random autumn weekday.
He was 13 when he rolled his four-wheeler into my driveway. I was sitting on the couch with my math book open in my lap. I had a small stack of scrap paper – the thin, brown kind that rips every time you try to erase something. I remember the TV was on in the background. Then I heard the whining of an ATV engine, followed by a knock… That day changed everything. I didn't know it at the time, but the first feeling of comfort came when his fingers entwined with my own.
But why wouldn't it? My parents divorce was uneventful, except that it took them almost five years to get it done, and they used me as the tug-o-war rope. My father moved out. My mother worked her ass off bartending to pay the bills. And my little world blew up.
• • •
You know what especially rocks about saying what you need to say? It feels so fucking good to get it out. That's also my measure for good writing these days. It's not about shock value. It's not about bizarre tales that often lose the reader. It's about saying the stuff that I initially think I simply can't say. Those things that scare me a little to talk about.
If my instinct is, "Gosh, I better not say that," you can bet it will be the next sentence I type. Possibly in italics, or with exclamati0n points.
Readers identify with what's real. Words with feeling, impact. A story that describes what every human has been through – but in a compelling way. I am told I have a God-given talent for messing with people's heads. Not because my writing is confusing or arbitrary, but because it is plain language laid bare. The big secret to writing raw? Tell the truth.
That's really all there is to it.
When Rachel asked me to guest post about writing raw, I thought it might be tough. I thought, "Damn. There's really no trick." So I hope you're not disappointed. I hope you understand that telling the truth in writing essentially means stripping off your clothes and parading your flesh on national television. Yeah, it sounds simple. But it usually isn't. You have to take every teensy ounce of fear inside you and turn it into magic.
Sometimes, I use journaling. It's cool because I can express thoughts and feelings I may not want to use in a story. But once I examine those words, hold them up to the light, it's much easier to see they aren't so scary. That the majority of the world has probably been through the same thing. Bonus: Every time I tell the truth, my personal growth and insight sky-rocket. No joke.
Want to change your life as a writer? Want to write fearlessly? The only person stopping you is … you.
• • •
I was plucked from the only school I had ever attended – all-girls, Catholic and expensive – and dropped into the town's public middle school up the street. When I got up in the morning, my mother was asleep. When I got home, she was gone to work. When I went to bed, she was still working.
By all accounts, I lived alone, in a brown, split-level house that smelled like too much Pledge. I watched my mother's prize-winning rosebushes rot, and my father's perfect lawn fade to yellow. It was just enough stress that I nearly drowned in my own stomach acid.
Yet here was this boy, showing up out of nowhere, often several times a week. Seven miles on a four-wheeler for me? How easy it is to put weight on other people in our lives. How simple to expect them to make up for everything we never had as children. I was pretty sure John liked me more than my parents. For the better part of 10 years, he was my one constant.
Which is probably why, for as long as I can remember, I've been one of those girls who makes bold, sweeping changes on a whim. I don't think. I do. Especially when it comes to love.
Over the years, I have thought long and hard about his strong, calloused hands and well-muscled thighs. About his uncanny way of making me smile, especially when I didn't want to. About how I could have saved myself a few decades' worth of heartache and wretchedness if I hadn't run away. Which probably isn't true, but maybe …
I saw him in the hush of the snow-covered trees this morning. He sneaks up on me like that sometimes. Today, it reminded me that uncertainty is always in my favor – as long as I don't hold on too tightly. A flexible agenda allows destiny to kiss me at will. The memories will surface when they wish.
Becky Tsaros Dickson writes. Because it's what she knows.
Stints as a reporter for two daily newspapers, which included two Presidential Primary races, taught her the value of a well-chosen word. She left journalism in 2006 to play Momma, but instead found herself filling blank pages while the kids napped. Her first book was released in November 2010. The collection of short stories, aptly titled I Could Tell You Stories, comes with its own play list and a boatload of art. (So cool.)
Her new project, a novella called "Say my name," is being released on her blog, one chapter per week. Her third book, temporarily dubbed "Don't Ruin my Life: Crap my kids say" is in the works.
Becky lives with her husband and two sons – and too many dogs – in the middle of nowhere, New Hampshire. It's where she belongs.
Blog     *     Twitter     *     Facebook     *     Buy the Book 
About I Could Tell You Stories: Love. Lust. Faith. Truth. Intuition. Hot! I Could Tell You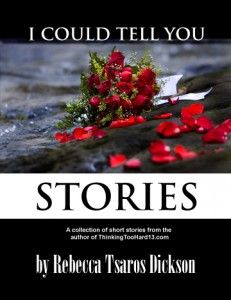 Stories is one woman's story of love and loss. Warning: This book will make you feel like never before